Connect with Powerdot. Everywhere.
Everywhere constant transit between electrical outlets – that's how some of us might describe everyday life. You go through your day with nonstop declining batteries – you may find yourself reaching for remote power sockets or end up sitting on the floor while charging your devices. Good news is that the solution can be mounted closer than you think.
With Powerdot you can connect power, data and media in a stylish and easily accessible way everywhere. When you need it, where you need it. Powerdot ties any room together with stylish outlets in expected – and unexpected – locations. The possibilities are endless. You decide where and how you want to be connected.
Charging at hand – wherever you are
Charging should be all about you and your needs. It should be simple, flexible and match your environment. With that in mind, we developed Powerdot – an elegant little circle of power that can be mounted pretty much anywhere.
Office, lounge, co-working space or from home – the modern workplace is more flexible than ever. Powerdot is ideal for any environment. It not only simplifies but enhances its surroundings. Experience charging in a new free way.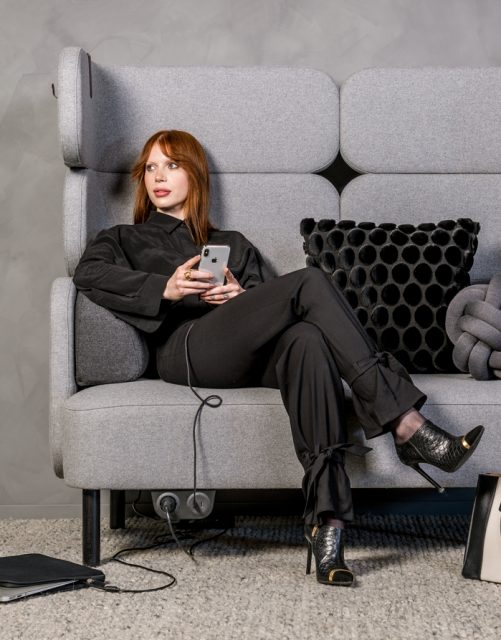 A long-term solution – replaceable and future-proof
Where is your office located, two years from now? We know that's difficult to predict, and we adapt our products accordingly. In an era when the office location is shifting as rapidly as technology unfolds, Powerdot serves as a flexible and secure solution - even in the long run.
USB-A today, USB-C tomorrow? No worries, Powerdot never gets outdated as it can quickly and easily be replaced as necessary. No electrician needed – simply unscrew the old Powerdot and replace it with a new updated version.
Charging that enables your design
Rose gold or matte black? On the desk, under the sofa or next to the coffee machine? Let your design flow uninterrupted. Powerdot comes in 52 different shapes – one colour, finish, size and function for any style or need. Powerdot is of course also available in several countries' electricity standards. Many versions can also be raised or lowered at three different levels, allowing a discreet and aesthetic look. Tailor your installation down to the smallest detail – without compromising on either function or design. Forget about dull standard solutions and let Powerdot connect the dots.
Can be installed almost anywhere – on your desk, under the couch or why not at the home office?
52 different options – one Powerdot for every need.
Easy to install yourself, no electrician needed.
Powerdot Conference
For meeting- and conference rooms we have also created ready-made conference kits for both small and large meetings. Open the cover to access power, data, HDMI, USB-A chargers and USB-C connection. It's up to you what kind of connection you want. Easy for you, easy for the meeting participants.
Choose between packages of two or five Powerdots. Under the table there is also a tailor-made cloth bag that neatly and practically collects and hides all the cords.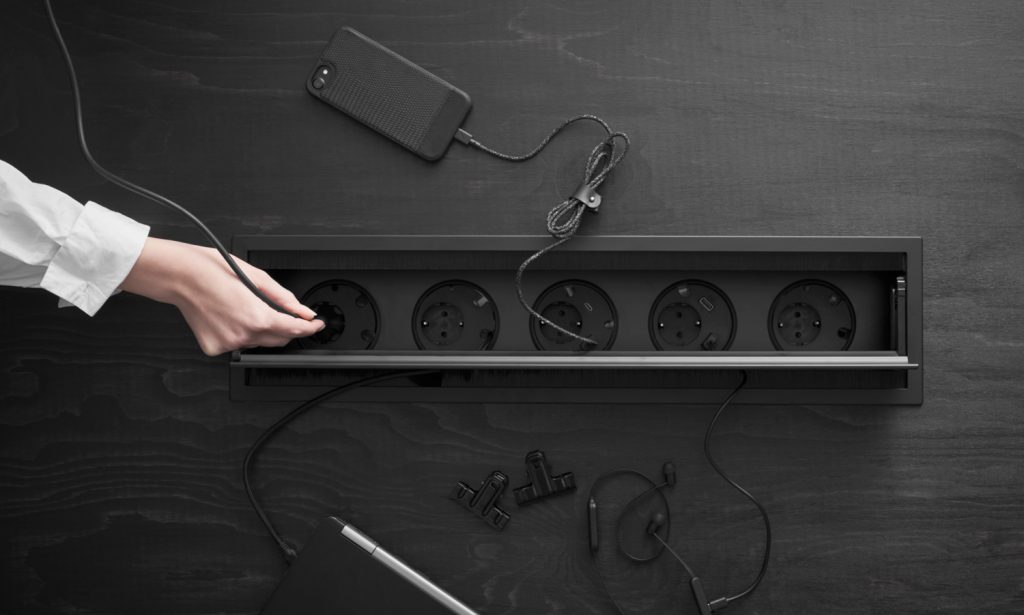 Some models can be adjusted in 3 levels, why?
You need to lower the unit to be able to use a cover (accessory). It also makes is possible to hides away the plugs smoothly.
What is the difference between a USB port and a USB charger?
A "port" acts as an extension where an external charger, port replicator or other device is located at the other end. A "charger" is only a charging socket without the possibility of other communication.
What can be charged in the USB-A sockets?
Mobiles, tablets, cameras and other accessories that do not require more than about 24 watts of power (2.0 A) for charging.
What electrical sockets are available?
Parts of the range are also available with connection for French, English, Danish or Swiss sockets. See www.kondator.se for current assortment.
Can I charge 2 devices simultaneously?
Yes, but charge power is distributed on both sockets.
Can I charge my computer with Powerdot USB-C?
A computer can usually not be charged with the built-in chargers that are in Powerdot because it requires higher power than what can be built into such a small product without the heat generation becoming an issue. For charging a computer, we offer separate USB-C chargers that are connected to any USB-C port.
I have a hole in the table or tray but no need for a Powerdot right now.
We offer inserts that also function as a cable-through if desired. See assortment at www.kondator.se
Is Powerdot available with GST18 connection?
Yes, in our standard range we offer Powerdot 79 mm with GST18 connection. For other models, contact us.
Find a dealer
---
Click here to send us an email and we get back to you as soon as possible with the closest point of sales
I am a Kondator dealer
---
Click the link to login to our webshop or send an e-mail to order@kondator.se
To become a dealer, fill out the new dealer application on our website.